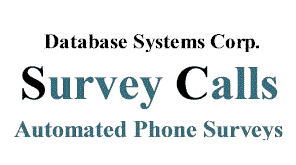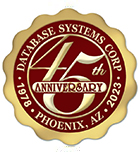 Frequently Asked Questions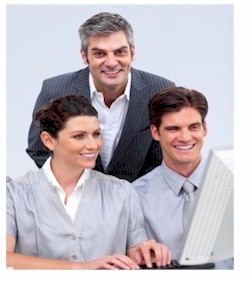 Automated phone surveys collect information from individuals by phone without human interaction. These calls can be both inbound (caller initiated) or outbound (phone system initiated). These automated survey calls can accept input from callers, usually in the form of pressed phone keys, and can accept voice input and in some cases translate that into actions.

Database Systems Corp. (DSC) provides a wide range of call processing technology including call answering phone systems and outsourcing services.

If your organization needs an inhouse phone system or wishes to use DSC's hosted services, DSC can develop a custom phone survey solution that meets your requirements.

Contact DSC to learn more about our custom phone survey outsourcing services and phone systems.


---
Phone Survey Frequently Asked Questions
The following are a few of the most common questions asked when considering using automated phone survey products and services from DSC:
---
General Information
What is an automated survey?
Automated survey calls collect information from individuals by phone without human interaction. These calls can be both inbound (caller initiated) or outbound (phone system initiated). Typically an IVR is used to prompt the caller with questions and responses are indicated by the respondent using telephone keypad responses (DTMF) or by speaking into the phone and having the response recorded for later analysis.
Does DSC provide outsourcing services and systems?
Yes, DSC provides outsource phone services at its Phoenix data center and also sells phone systems. Phone survey systems are integrated Windows, Intel PC and Dialogic telephony boards.
Is DSC the manufacturer or a representative?
Yes, DSC is the manufacturer of its phone survey solutions. Phone survey systems are fully integrated computer phone systems that are assembled and tested at DSC facilities prior to shipment. The hardware and OS components are industry standard Intel processors using Dialogic communications boards, both managed on a Microsoft Windows OS.

All of the interactive voice response control programs are developed by DSC. These programs can reside on the phone survey system or can control the phone survey system from a remote computer system including a Linux system. Custom phone survey applicaions are also developed exclusively by Database Systems Corp.
How much does it cost?
Call Survey Phone Systems

Custom phone systems (supporting 4 analog lines) start at $6495 and expand to hundreds of digital phone lines. Because each customer has unique requirements, the development costs will vary. These phone survey development fees have typically started at $500, but can be much higher based upon the complexity of the phone survey application.

Optional maintenance service is available after the first year.

Phone Survey Outsourced Service

The following are the general pricing models for our phone survey service:



Setup and Development Fee - this varies based upon application complexity, typically $500 and up.
Monthly Fixed Fee - This fee varies as well based upon number of 800 numbers and other resources required, but is typically $150 and up.
Usage Fee - This fee also varies based upon call origination but is typically 15 to 20 cents per minute.
How long does it take to implement?
Phone survey applications can be developed by DSC's professional staff in a timely manner. Prior to signing an agreement, DSC personnel will analyse the phone survey requirements and these will be jointly approved by both you and DSC.

Once the contract has been signed, DSC programmers will begin developing this application and will provide a test version for you to approve. Once approved and further tested, it will be implemented at our phone survey call center or shipped to you with your phone survey phone system.

This entire process generally takes just a few days or weeks, depending upon the complexity of this application.
Does DSC provide phone support?
Yes. DSC has been in business since 1978 and has always provided phone support to its clients. Emergency after hours support is also available as well as 24 hour email contacts.
Can my phone survey application be transfered to a purchased phone survey system?
Yes. For most outsourced phone survey applications, the actual phone survey program can be transfered to a system purchased from DSC at minimal expense. If internet integration has been provided with the phone survey application, the cost is higher. DSC will provide this estimate upon request and perform the transfer in a timely manner.


---
Payment Options
Does DSC accept Credit Card Payments?
Yes, DSC accepts Master Charge and Visa as a payment method. DSC can also invoice your organization (upon approved credit) and accept corporate or personal checks as a payment method.
How will I be billed?
DSC estimates typical monthly usage at the point of contract and includes one months deposit upfront. Thereafter, DSC provides end of month billing to clients showing service usage as well as any monthly fixed fee. This amount is either charged to a credit card or invoiced electronically (or by mail).


---
Phone Survey Provider Questions
How long have you been in business serving hosted clients?
Database Systems Corp. was founded in 1978 and has been providing products and services to our industry far more than any of our competitors. We've served small organizations and companies. We've likewise provided products to our Government and large Fortune 100 companies alike.
How many customers do you support on a daily basis?
Customer support is the key to any business, but support is essential for your phone answering service. This is the front end of your business and its the first impression some of your customers have of you.

Our call center supports customer installations and hosted applications for hundreds of customers, each with their own unique requirements and custom application.
How many applications have you developed?
DSC has developed and implemented more than 3,000 business applications across a wide spectrum of industries. Although not the largest provider of voice applications, we have clearly provided the most diverse and complex applications of any company in our business. We've provided support to clients in Europe, Asia, the Middle East as well as North America.
How do we know DSC is a viable long-term partner?
Database Systems Corp. has been in business since 1978 and has been providing solutions and service to a wide cross section of the U.S. business spectrum. Just ask our clients (ConocoPhillips, American Red Cross, State of New Jersey, etc.).
How is integration with existing applications handled?
DSC has developed the most comprehensive integrated solution for voice applications available on the market today. From our "Open phone survey" approach to our XML data access and client / server design, we provide our clients with the most choices when it comes to database integration.
What type of analytics tools can your company provide?
DSC has developed it's own simulation models for both inbound and outbound voice campaigns. View these models at our Call Center Simulation web pages.

To assist our clients with estimating the resources required to perform both inbound and outbound campaigns, Database Systems Corp. provides several simulation models. These models accept calling campaign parameters such as anticipated call volume, list size and message lengths and estimates the resources required to process these campaigns.

Our phone survey model and phone survey simulation program is a resource calculator. The phone survey model calculates resource requirements for an inbound phone campaign. It estimates the number of lines required to handle peak load processing of these calls. This model assumes that calls are evenly distributed during the peak period.
Where is my voice application hosted?
Database Systems is unique in our industry because we provide phone survey phone systems to clients as well as host a call center to provide voice applications. Most of our phone applications are hosted in our inhouse call center while our outbound calling campaigns are run in any one of our networked call centers.
Who are your marquee customers?
Our customer list includes Verizon Wireless, KB Homes, State of New Jersey, Orange County, State Of Washington, Cox Communications, Sara Lee, and hundreds of others.
Are there any hidden costs?
No, There are no hidden costs, just the costs associated with initial setup and ongoing usage.

Unlike most of our competitors, DSC also can provide your organization with a turnkey phone system and can develop this application for you as well. This system requires a one time license of our software with an optional annual maintenance fee.
Does DSC subscribe to IVR best practices?
Yes, Database Systems Corp. personnel have been involved in the design process and implementation of hundreds of unique phone applications across industry lines. Questions are developed using our award winning IVR products. Our staff is composed of experts in the fields of telecommunications, database design, and web integration.


---
Phone Survey Technical Questions
Who develops my call survey application
Your phone survey program can be developed by DSC personnel or can be programmed by your own staff. If your application is running on our call center, DSC personnel will create the phone survey program required to answer your calls.

If you chose to develop your own applications, DSC provides a complete software development users guide as well as training which can help your developers create and maintain your own applications.
How are phone survey applications developed?
DSC technical staff will analyse your phone survey requirements and provide an estimate of how low the project will take to implement. (In most cases, this implementation is simply a matter of days after the contract has been signed) A flow and design chart is developed and someone within your organization approves this document. Once the phone survey has been developed, DSC asks for your review. There are times that the developed phone survey needs to be changed because of a changing requirement. DSC developers will implement these as well, sometimes at an additional fee.
Can a survey access remote information?
Yes, DSC supports XML and Web information access logic that enables our phone survey phone system to make external requests for information via the internet. Using this technique, callers can be given information maintained anywhere on the web. Using our Text To Speech application software, text information can be retrieved via discreet messages to other web sites (or servers) and this information converted into a phone message that is automatically played to the caller. Virtually any type of information can now be relayed to a caller using our phone system.
Can the survey update data remotely?
Yes, the phone survey system can send updates to any computer system or web based application that is accessible through the network. This requires coordination with the hosted database to insure the information is updated properly. Contact DSC support for further information about this process.
How do I get survey results sent to me?
The call history of your phone surveys can be reviewed on a real-time basis using our online phone reports. Custom reporting and analysis can be designed with your phone survey application and these results can be either emailed or faxed to your organization on a periodic basis. Using our phone survey VoiceXML procedures described above, phone survey results can be sent to your computer systems on a real-time basis as well.


---
Contact Database Systems Corp.
Contact Us Today to learn more about our custom phone survey development and outsourcing services.